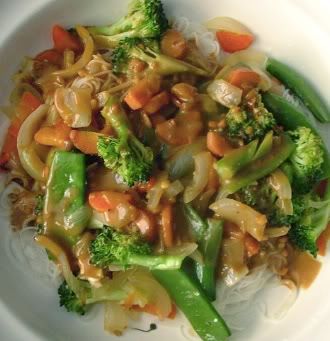 Peanut sauce
(i'm guessing measurements here. i usually just add things to the consistency and flavor i want):
1/2 cup of peanut butter
1/3 cup of hoison sauce
1 cup of water
a few dashes of cayenne
stir into a small saucepan and heat until melted together
For the Stir fry
(which I just sort of made up as I went):
2 TBS vegetable oil
2 cloves of garlic, minced
1/2 chunk of fresh garlic, minced
1/2 seeded jalapeno, minced
2 carrots, sliced
1 head of fresh broccoli, chopped
1 onion, chopped
1 bell pepper, sliced
1 C of snow peas
Vermicelli rice noodles
(You can use whatever vegetables you like, I just used what was in the fridge.)
Put the skillet on medium-high heat and add the oil, garlic, ginger, and jalapeno. Cook for a few minutes then add the vegeatble and cook for about 10 minutes until veggies are softed but still have some crispness to them.
Last thing to do is cook the vermicelli rice noodles. Just get some water boiling in a saucepan and add in the noodles as soon as it comes to a full boil, then take off the heat right away. Allow to sit for 4 minutes then dump the noodles in a colander and rinse with cold water.
Now get yourself some noodles, veggies, and top with the peanut sauce and there you have it!