I can't find veg Pho anywhere in Orlando and I've been craving it for years(!), so I finally cooked up my own: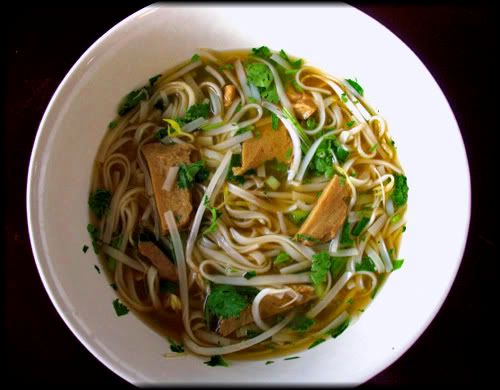 Broth ingredients:
2-3 cinnamon sticks
4 cloves
2 pods of star anise
1 medium size onion cut into several large chunks
8 cloves of garlic, halved
1 inch piece of ginger, coarsely sliced
8 cups vegetable broth (I use Vegebase and water)
3 tablespoons of soy sauce
salt to taste
Soup ingredients:
1 package of cooked rice noodles
8 oz package of seitan, cut into slices
a few scallions, finely chopped
2 cups of bean sprouts
one bunch of cilantro, coarsely chopped
1 lime, cut into wedges
hoisin sauce
Put the cinnamon, cloves, star anise, onion, garlic and ginger in a large sauce pan and cook over medium heat until everything is slightly charred. Now and the broth and soy sauce and bring to a boil, then turn down the heat and simmer for 20 minutes. Strain the broth into another dish with a fine mesh sieve and dispose of the cooked spices/veggies.
Put some cooked rice noodles in a large bowl and top with some seitan. Ladle broth on top and add desired amount of sprouts, chopped cilantro, and if you'd like, a little fresh lime, hoison sauce, and/or crushed peanuts.