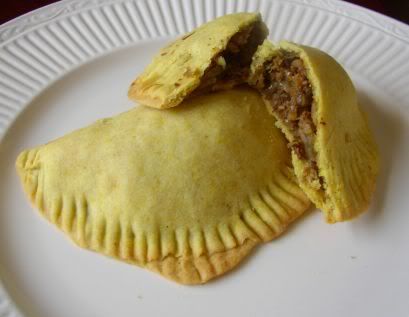 Ingredients:
2 cups all-purpose flour
1 1/2 teaspoons curry powder
1 dash salt
1/2 cup earth balance margarine
1/3 cup water
2 tablespoons margarine
1 12 oz package of morning star farms veggie "burger" crumbles
1 small onion, finely diced
1 teaspoon curry powder
1 teaspoon dried thyme
1 teaspoon pepper
1/2 teaspoon chilli powder
1 veggie bouillon cube (I used maggi brand)
1/2 Cup water
Directions:
Preheat oven to 400 degrees F (200 degrees C). In a large bowl or food proccessor, combine flour, 1 1/2 teaspoons curry powder, and pinch of salt. Mix in 1/2 cup margarine until mixture resembles coarse crumbs. Stir in water until mixture forms a ball. Shape dough into a log, and cut into 10 equal sections. Roll each section into a six inch circle (approximately 1/8 inch thick). Set aside.
Melt margarine in a skillet over medium heat. Saute onion until soft and translucent. Stir in the package of "beef" and season with curry powder, thyme, black pepper, and chilli poweder. Crumble in bouillon cube, stir, add water, then stir again. If it's too liquidy just simmer until enough liquid is absorbed. Remove from heat.
Spoon equal amounts of filling into each pastry circle. Fold over and press edges together, making a half circle. Use a fork to press edges then bake in preheated oven for 30 minutes, or until golden brown.