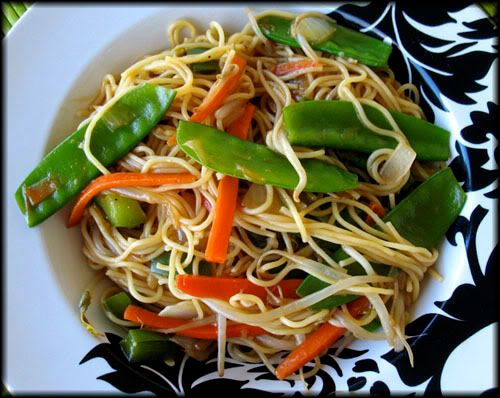 1/2 box of cooked angel hair pasta
3 tablespoons of vegetable oil
1 cup of snow peas
2-3 carrots, cut into matchsticks
1/2 a bell pepper (any color), sliced
1 small onion, chopped
3 cloves garlic, minced
1 inch piece of ginger, grated
2 cups fresh bean sprouts
1 tablespoon cornstarch
1 cup vegetable broth
1/2 teaspoon cayenne pepper
1/2 teaspoon curry powder
4 tablespoons hoisin
2 tablespoons soy sauce
peanut sauce (optional)
Heat the oil in a large skillet and saute the snow peas, carrots, bell pepper, onion, garlic and ginger. Add in the bean sprouts and cook for a minute or two.
In a small bowl, stir together the cornstarch and broth then pour over the veggies. Now stir in the cayenne, curry powder, hoison, and soy sauce, then allow to cook a few minutes until the sauce has thickened.
Have the cooked angel hair ready in a large serving bowl and pour the veggies and sauce over the pasta. Combine thoroughly then eat up!
(If you like, set out a small bowl of peanut sauce and add to your taste)