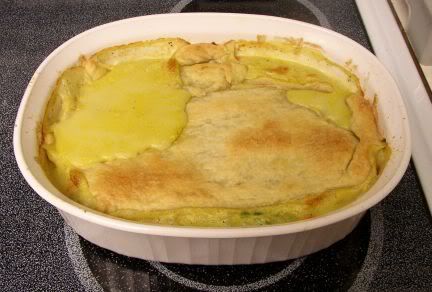 Veggie Pot Pie
- The best vegan pot pie recipe
ever
:)
3 stalks celery, chopped
1/2 an onion, chopped
3 carrots, chopped
3 tbsp earth balance vegan margarine
1/2 C flour
2 cups of vegetable broth
1 C plain silk soy milk
1 tsp salt
1 tsp pepper
3/4 C frozen peas
3/4 C frozen edamame
Saute celery, onions, and carrots in butter for 10 minutes.
Add the flour, stirring constantly for 1 minute
Add broth and milk to mixture while stirring constantly
Cook over medium heat until bubbly then stir in the peas, edamame, salt, and pepper.
Pour into a 2 qt casserole dish and top with crust.
Bake at 375 F for 30-45 minutes
Pot Pie Crust
1 cup flour
1 tsp salt
1/3 cup earth balance
2-3 tbsp cold water
Mix flour and salt together, cut in shortening, add the water, then shape into a ball and chill. Once it's chilled roll out the dough to fit the casserole dish.