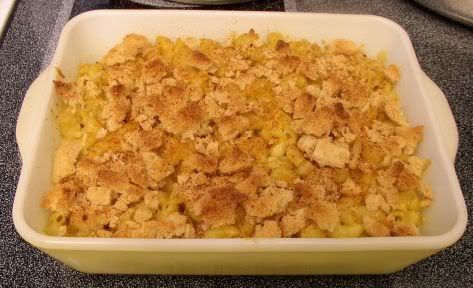 Macaroni & "Cheese"
1 3/4 C macaroni noodles
1/4 to 1/2 cup Earth Balance vegan margarine
1/4 cup flour
1 3/4 cups boiling water
1 tsp salt
1 tbsp soy sauce
3/4 tsp garlic powder
Pinch turmeric
2 tbsp oil
1/2 cup nutritional yeast
bread crumbs
a few sprinkles of parprika
Cook the macaroni and set it aside in a colander. In a saucepan melt the margarine over low heatthen mix in the flour with a whisk and continue whisking over a medium flame until the mixture is smooth and bubbly. Stir in the boiling water, salt, soy sauce, garlic powder, and turmeric. Mix it well to dissolve the flour mixture and cook until it thickens and bubbles. Stir in the oil and nutritional yeast. Add the noodles to the sauce and make sure all the noodles get coated. Next pour the mixture into casserole dish (I used a 3 in deep 5"x7" pan), top with bread crumbs, and sprinkle with paprika. Bake for about 15 minutes at 350†F.