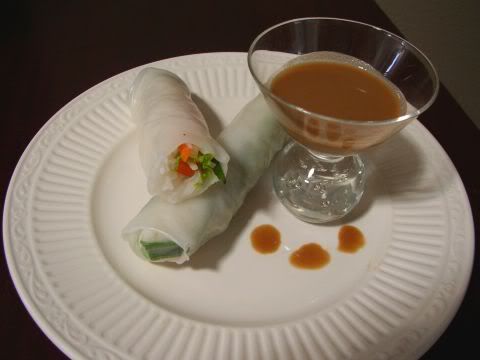 Summer Rolls
Cucumber, sprouts, lettuce, carrots, a few green onions, cilantro, mint leaves, rice vermicelli noodles and a package of summer roll wrappers (very different from the egg roll wrappers that are in the refrigerated section of grocery stores. Summer roll wrappers are transparent and brittle).
Next, cook the vermicelli in boiling water for several minutes, then transfer to a colander and rinse with cold water.
Cut the vegetables into thin sticks or strips so that they fit nicely in the transparent wrapper.
Dip the dry summer roll wrapper into cold water until soft and pliable (not too long though or it will tear too easily). Then fill and roll each wrapper before moistening the next.
Start by placing some vermicelli half way between the middle and edge of the wrapper. Next add some sprouts, sliced carrots, lettuce, cucumber, a bit of cilantro, and a strip of green onion. Roll it up once around, then tuck both sides in neatly. Roll once more and set aside on a plate. Only make enough rolls for one sitting as they wil dry out very very quickly.
Peanut Sauce
1 Cup of peanut butter
1 Cup of hot water
Whisk together in a pan over low heat. Then add:
1/4 Cup of soy sauce
1/4 Cup of molasses (regular, not blackstrap)
1/2 Cup of white vinegar
1 Tsp of cayenne pepper
1/2 Tsp of ground ginger
2-4 TBS of sugar (depending on what you like, just taste as you go)
Stir it all together then put it in a bowl/dish and get it cold in the fridge before serving. It makes a lot of sauce so feel free to cut the recipe in half. Enjoy :)